There are many Cool Music Apps for iPad designed with music lovers in mind. If you love producing, composing, mixing and recording music, you may want to download these great apps for your iOS device.
If you play for a rock band and are used to live instruments such as the keyboards, guitars, drums and bass, you will find recording using these apps a lot more convenient.
Although there are lots of Great Music Apps for iPad, not all of these applications are useful. Apps such as iGuitar, WI Guitar (free version) and iCanBass are quite useless in this regard.
Piano HD Free, easy Guitar HD, and Garage Band are some of the iPad music apps that are worth buying and will save you time. They are really useful in recording your music compositions.
Garage Band: All in One
This is useful paid app includes smart bass, smart guitar, voice, virtual drums and keyboard. It lets you record a complete song on an iPad. Each instrument can be recorded one after the other after selecting "New Song" on the upper left corner of the app. Drums can be recorded to form the structure of a song, later on, instruments such as  bass, keyboard and guitar can be add to it.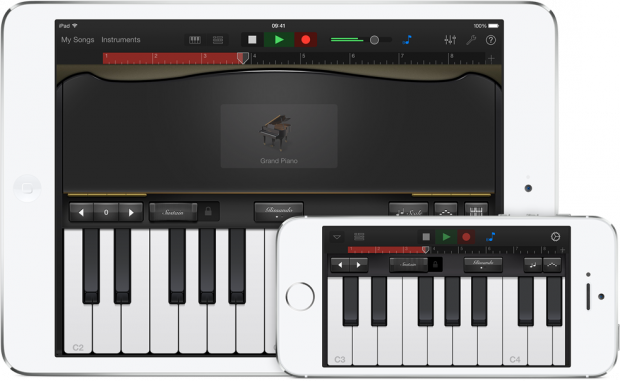 Any instrument can be deleted or replaced at any one time. Volume levels can also be adjusted. Each instrument has a unique setting and rhythm for auto play. There are 3 drum machines and 3 traditional kits for Drums and also for Smart Drums. Tempo and key for a song can also be selected.
WI Guitar and EasyGuitar HD
This is another cool music apps for iPad. It can be used to record solo and lead guitars. Free easyGuitar HD app can also be used for this purpose. WI Guitar is a paid app that cost $19.99. It is a virtual acoustic guitar that includes an electric guitar and a classical instrument but is limited to 12 chords in addition to sus4, add9 and maj7. This app is great only for recording and playing simple songs.

If you want to add a solo to your basic guitar line, you can make you of easyGuitar HD. This app also has 2 classic guitars. When making a solo, you can play eithernon the first 6 frets or the last 6 frets. With your finger on one hand, push the strings you want to play while using the finger on the other hand to play the strings like a real guitar.
Piano HD Free
This iPad app for music is a free app and is pretty good. With it you can mimic up to 6 musical instruments on the keyboard: instruments such as saxophone, grand piano, horn and guitars. This app is a great way to record songs and a good substitute for the Garage Gand sounds.

This app has 3 modes: multiplayer piano, a four octave grand piano and multiplayer piano with saxophone. You can compose music and also do a duet with your band. It is quite a problem tapping the right notes on this app because of the size of our fingers; this is a major drawback for this app.