Microsoft Office 365 for iPad is made up of three applications, Word, Excel and PowerPoint.
I downloaded these Office Apps firstly as Free Office Apps, you are then able to view existing office documents for free. To be able to edit or produce new work, you will need a subscription to office 365 (this is assuming you do not already have a subscription).
There are various subscriptions and pricing for Office 365. I chose the Personal version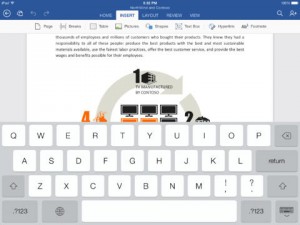 which comes in at $6.99 per month. The other options are Home Premium at $9.99 per month. There is a Student subscription option at $79.99 for 4 Years. There are also several Business options.
Each subscription will cover you for one or more Tablet PC, including the iPad.
The Office 365 app was designed with the iPad in mind. The touch screen usage is very responsive and accurate. It has an icon ribbon at the top of the window in which the only headings that have been discarded are the Reference and Mailing menus.
There are slider bars which are used to select Text Blocks.
I must say, I found it much easier to work on the iPad Office System whilst traveling, than having to carry my laptop with me.
Word documents, with or without markup, can now be printed on an AirPrint printer. You are able to email your documents or put on Disk \ Pen Drive to print from another machine with Office installed.
On the downside, I could not find any real help function in the Office App, but to be honest, the majority of users are likely to have been using a version of MS Office before, so are likely to be familiar with the applications. Office for iPad files are compatible with your Desktop and Notebook versions.
I found the Office 365 for iPad a better experience than using Pages or Keynote, but this may be because I have been using versions of Microsoft Office for 17 years plus.