Can I work on My QuickBooks for my IPad?
Do you want to work from remote locations? Is your phone too small for your eyes and your laptop too bulky to carry around with your? QuickBooks for iPad has made it possible to work on your QuickBooks files remotely and more comfortably. The new iPad app has allows you to complete your tasks efficiently from any location.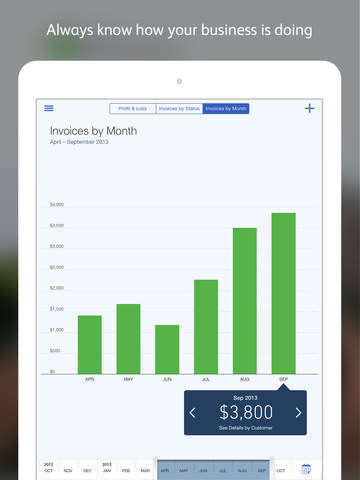 The app allows you to effectively edit your files and do everything that is possible from your laptop. It is customized to suit all your accounting needs. It is a superior service on your iPad that ensures you deliver quality work on time. I would recommend this QuickBooks for iPad for you if you travel frequently with a lot of accounting tasks to do.Getting this app allows you to work on your files more conveniently. This will improve your productivity.
Advantages of using QuickBooks for IPad
QuickBooks is the most powerful accounting software with simple programs that helps small businesses to keep track of transactions efficiently and more smoothly. All business finances require complete attention and a failure to record a single transaction may lead several other mistakes. It get complicated most of the time and managing your business may become even more difficult. This is why you require a device that is portable to enable you complete all your business tasks. Your iPad will be more suitable for this operation.
The advantages of using iPad QuickBooks include;
Real Time Money Management– You will be able to record all your transactions as they occur and set up updates of recurring bills. It is possible to do necessary math to allow you account to the last cent.
Efficient Payroll Management– The iPad QuickBooks comes with a built-in payroll feature allowing you to manage your business payroll. You can also compute related taxes for all the employees. Doing this from anywhere is more efficient.
Easy Reporting– It is easy to generate reports such as profit and Loss statements, cash flows, balance sheets, receivables and payables. An iPad has become more powerful through these accounting tools.
Easy Sales Tracking– Tracking your sales and other services from your iPad is very convenient. You can easily record your revenue as well as keep track of which of your products are generating more revenue.
Customization – The customized templates allows you to create charts, invoices, business plans and spreadsheets. These customized features have made QuickBooks on your iPad to be more efficient.
QuickBooks has offered a great deal to both small and large-scale entrepreneurs, making their work easier.
Although an iPad or a tablet cannot completely replace a computer, QuickBooks for iPad improves your productivity and efficiency. This is because it is portable, accessible, instant on, long battery life, and fun factor. You will no longer sit in the office for more than eight hours a day completely tasks that would otherwise be done form the any location. Get QuickBooks on your iPad and experience the great simplicity in your financial records.