WhatsApp is a messenger and social networking platform that allows users communicate and share information through the use of Wi-Fi or 3G. Founded in 2009, WhatsApp has grown to having over 400 million users per month and has become a global brand, thanks to the purchase by Facebook.
WhatsApp on iPad is arguably the most used messaging platform today with people now switching from the traditional SMS and MMS to WhatsApp. The popularity and increasing use of this application can hugely be attributed to the great features that come with WhatsApp. Photos, videos, text messages and audio notes can now be sent to anybody around the world with few actions required.  The process is easy and instant. But the best part of it is the cost. WhatsApp is free just like the best things in life.

You only need to search for "WhatsApp" in your app store, have it installed, and you are good to go. It is available across almost all app stores from the Apple store to Google play store, and also on the blackberry store. The accessibility, affordability and user – friendly interface has made WhatsApp a huge favorite amongst its peers.
Despite all these great attributes, WhatsApp can only work on supported devices. Smartphones and devices are required to be operating on compatible operating systems for the application to function properly. Despite the existence of the WhatsApp on the iTunes App store, iPad users are not able to use the application because of the incompatibility of the device.

The curiosity and thirst for WhatsApp by users and developers, has led to several research and discoveries on how this great application can be put to use on the iPad. Previously, users had to jailbreak their ipad to enable the use of WhatsApp. Thanks to research, iPad users can now take advantage of the wonderful attributes of this application on their devices. With the following simple steps, your iPad can be "WhatsApped".
Search for the WhatsApp.ipa
Step 1.Launch iTunes, search and download WhatsApp.ipa on your computer, this is to get the iPA file.
Step 2.Navigate to iTunes Media Folder, the default path is: C > Users > Username > My Music > iTunes > iTunes Media > Mobile Applications > WhatsApp. iPad. If you ever changed the path before, find the .Ipa
Step 3.Connect your iPod or iPad to computer and run SynciOS. Click on My device Tab, you will find 5 menu on the left side of the panel. Go to Apps, you will see a list of installed applications. Select "install" button, choose the WhatsApp file you've copied from the "iTunes media folder". It will be smoothly installed on your iPad or iPod Touch.
Step 4.You should now have completed the install of WhatsApp on your iPad / iPod once the installation process completed. Disconnect your iPad Air, iPad mini or iPod Touch.
Activate WhatsApp on iPad, iPod without jailbreak
Step 5.Get an iPhone and install WhatsApp on it. If the iPhone has WhatsApp previously installed, you would have to uninstall it since the process requires a fresh install.
Step 6.After the re-installation, you are required to type in your Phone number to activate it. Be sure the number you typed is the one you want to use on your iPad or iPod.
Step 7.Connect your iPhone to your computer and launch SynciOS software. Go to My Device>Apps>WhatsApp. Click the preview button on the right side to access WhatsApp app document system, select both Documents and Library folder, click on the Export button to copy the 2 folders to your PC.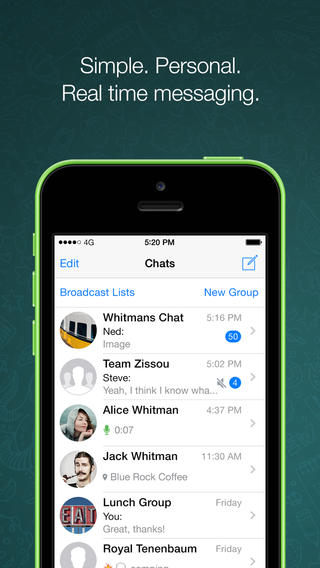 Copy WhatsApp Activation Files to PC
Step 8.Unplug your iPhone and plug iPad or iPod back in to your PC. Again go to My Device>Apps>WhatsApp app document file system, delete Document and Library folders, then import the 2 folders saved on PC or simply drag and drop the 2 folders to the App Document Management Panel as shown below.
Replace WhatsApp activation files
Step 9.Disconnect your iPad or iPod from the PC, WhatsApp would be activated and ready to use. Enjoy WhatsApp for iPad.
The process takes about thirty minutes for newbies and the not so techie ones. If you are a gadget freak or a techie nerdy, you are just some few minutes away from getting the WhatsApp experience.
It should be noted that WhatsApp can only run on a smart device that has working SIM card installed in it. Intending users should also note that they cannot WhatsApp with the same SIM card or phone number on more than one phone.
WhatsApp clones include WeChat and Telegram. The services enjoyed by users of WhatsApp are so immense; every smartphone user should have an experience.
Why the wait, start using WhatsApp today and take advantage of the techie nerds that spent sleepless nights on developing ways of suing WhatsApp on your iPad.