However, for some Angry Birds is not for them and their kids would rather watch something. This is where WeetWoo helps, this is an app for safe and educational kids videos. Which means that with this app you no longer have to worry about your kids watching offensive or inappropriate material? WeetWoo will filter out any negative outside influences, whether in the form of comments or sharing. Now your child can enjoy old school clips of Sesame Street all the way to new videos like the Annoying Orange, all the meanwhile your children will have the ability to navigate through videos without your assistance.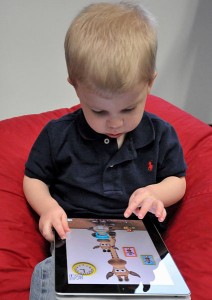 If videos are not for you, instead a more wholesome activity is of your preference. Like the simple act of reading your kid a children's book story, but now you can keep with the times and read that children's book story in a more modern setting. Ladies and gentlemen I bestow upon you my latest discovery, Bean Bag Kid's Present Little Red Riding Hood app for IPad. "Hold on a minute I don't want my kid having any nightmares about wolves eating kids and being cut open" That is where you need not worry, for you see this version of little red riding hood has been altered there will be no eating of young girls nor any unholy extractions from wolves bellies, rest assured. The beauty to this Bean Bag Kid's version of Little Red Riding Hood is that children can interact with the characters as the story progresses. Something you and me didn't have as a child, I don't know about you but there are many questions I would like to ask little red riding hood. By the way did I mention the mini games? You hear me right, and your kids will definitely love that.
In addition, to the mix of entertainment and education, you might want your child to be more earthly conscious. For that there is nothing better than the app know as Feed Me Oil. The theme revolves around a positive notion of cleaning up and environmental mess. Your child will develop quick thinking in his mission to redirect spilled oil into oil eating creatures mouths, which is essential for the balance of earth and one could even say, "The universe"! If saving the world is not enough initiative for your kids to engage in the app, then they will fall prey to the funky music and out of this world blob graphics.
Talking about the earth, can one forget the dinosaur phase most children go through? I think not, that is where National Geographic Ultimate Dinopedia app will make its presence known. Now your kid can get up close and inside the magnetic element that makes up dinosaurs. With over 700 different types of dinosaurs, your child will be in awe discovering new and interesting facts about his favorite dinosaur the Velociraptor. Did I mention this app is the most complete guide to dinosaurs in the entire world, if that is not enough incentive to download the National Geographic Ultimate Dinopedia app I don't know what is.
Of Course Dinosaurs is one thing, but what about maths!
Then let me introduce you to Slice It where your kids can learn basic addition and subtraction. Since this is an IPad app that capitalizes on imagery, specifically that of fun filled puzzles. Your kids will not only become bona fide wizes in the art of addition and subtraction, they will become qualified ninjas as they slice away any math problem that poses a threat to the family.
Now you tell me, will you ever again have trouble settling your kids down on the ride to the grocery store. The answer is no, because you now have a powerful weapon at your disposal. Computer programmers like to call that weapon the IPad APP! May you enjoy the good times ahead of you and may your kids have fun in the process. Who knows maybe one day it will be your child creating the IPad App, you never know.