Since 2010, Apple implemented the Airprint functionality in all their devices and products, including the iPad, so everybody who has an Apple device and needs to print any kind of document doesn't need a USB cable to plug and print. Airprint is an interface between wireless printers and Apple products, so it will automatically detect the signal of available printers and establish a connection with your iPad. However, most printers these days have this native function, though not all them have an extra that makes them really the best wireless printers for iPad: the remote printing function.
Best Printer for iPad
With your iPad, you can connect to the Internet and send documents to the printing batch from anywhere in the world. That requires of course your printer to also be connected to the Internet. Since most wireless printers have a router to enable their signal and connect to devices, they are also able to connect to the Internet, but few brands offers a good remote printing system, which will create an e-mail account to your printer and from where it will be able to print documents from long distance as you send them like any other kind of e-mail. The inbox of the printer sends the e-mails to the batch queue and starts the printing.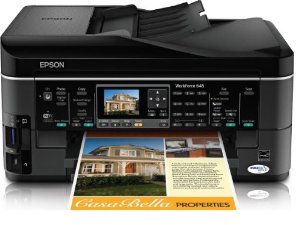 Epson is the brand who first developed this kind of technology so they are our first reference here. The best wireless printers for iPad of this brand are the Epson Workforce 645 and the Epson WorkForce 845 All-in-One. While the first offers the best price despite being an All-in-One like the second one, it is a demure model and the speed of printing is slower because it does a more neat work of impression. And of course, this has one of the best remote printing systems. They have a quite complete app to generate the printing e-mail. If you are in a rush, however, the 845 will be better as it offers more fast options to generate your documents as an e-mail.
On the other hand, if you really want quality and speed when it comes to remote printing, the HP technologies offer some of the best wireless printers for iPad, like the HP OfficeJet Pro X576dw, despite being more expensive, is your best call if you want an All-in-One which is quite potent. Their app to generate the e-mails provides also more options of personalization, and that is a feature related to the native options the printer offers.
You might also like a lot the HP OfficeJet Pro X551dw Printer from the same generation of the X576dw, though it is much more turbinated. HP remote system is also popular for delivering the e-mails faster as the company developed many dedicated servers for the remote printing task.