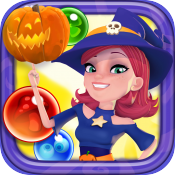 By King.com
Bubble Witch Saga Version 2
The Bubble Witch 2 Saga is the sequel app game for the already famous Bubble Witch Saga. Developed by King.com, which is also responsible for the world wide famous Candy Crush Saga, the creators know very well how to make addictive, simple and challenging puzzle games.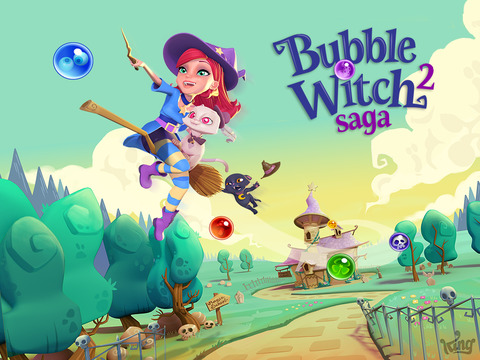 This version 2.0 of the Witch Saga comes improved with better graphics and is developed for both iPhone and iPads, so there is not special Bubble Witch 2 Saga on iPad you'll have to download to run, is a single only version for both devices.
The second episode of the saga offers a wider, much wider Witch Kingdom for you to conquer. As you have to burst as much bubbles as possible, the reign gets progressively more free from the dark spirits you are supposed to ban from Stella's land.
The game can also be played solo or with other players, so you can challenge your friends to see who reaches the highest scores. The Bubble Witch 2 Saga on iPad also has some mode improvements. There are over 100 different levels, and as you excel your game playing, things get tougher, so there are new boosts and bursting bubbles to help you through tricky challenges. For those who are really addicted to the game and already mastered it, King.com offers every 2 weeks a new level so the challenge keeps going. Of course, you can replay any level, so you can often challenge new people. As you play with other people, you can watch in time the evolution of the ranking as the leader boards get updated instantly.
Like the original game, Bubble Witch 2 Saga on iPad is a free app you can download from iTunes store, however, the most hardcore players can purchase special packs with extra boosts and Gold Bars. There are packs up to 50 dollars in the store, all up to your player needs.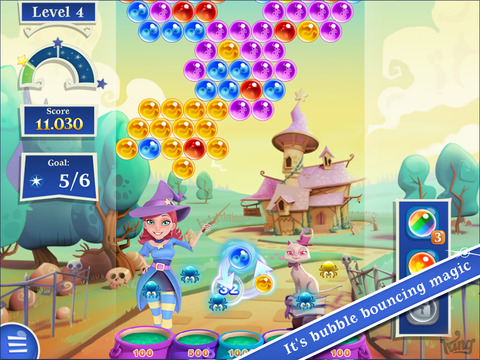 For the Halloween holidays King.com updated the game with special celebrating new levels with more spooky scenarios and graphics. The latest version has over 270 different levels including the Halloween one.