About Five Nights at Freddys
Whatever the developers of the game had in mind before coming out with such a game is almost irrelevant. The sure thing about Five Nights at Freddy's on iPad is that it is scary and fun. It can be amazing how one gets to enjoy being a night watchman at a children's restaurant. The gameplay and interface is such a unique one. The player casts as a night watchman at a children's restaurant where kids come to eat and be entertained by the eatery's collection of animatronic animals that laugh. Play and dance with the squealing brats in the day. It is however a different ball game in the night as these once soulless automatons stalks the corridor of the building in search for humans to stuff into bear suits.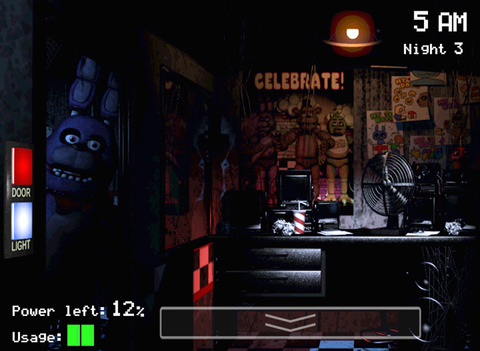 As the watchman you are tasked with the responsibility of keeping the building and of course keeping yourself alive. This is just for 6 hours that may well be the most terrifying six hours of a watchman's entire career. The experience is fun, intense and terrifying.
The game ranks as one of the best new games on iOS devices with massive download and followership in such a short span of life. Released in September 2014 by Scott Cawthon, the horrific game is rocking the Apple iTunes store with every device owner wanting to have a piece of the game. It costs $2.99 to have the game downloaded to your iPad and requires an iOS 5.1 or later for users to enjoy seamless and maximum fun and experience.
The game is very simple to play but players should be watchful of Freddybear and his friends. They are actually the main characters of the game besides you – the watchman of course.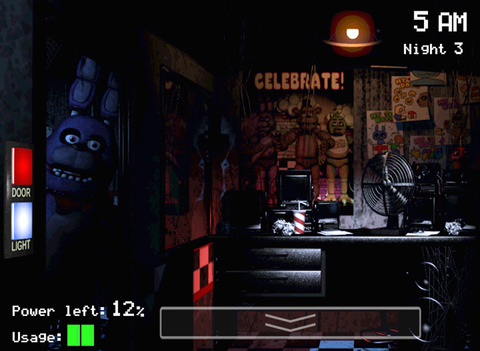 Players have limited amount of electricity, an important essential for staying alive in the game. Running out of power simply means no more security doors and no more lights. This can make the task of keeping Freddy and his friends in the right place pretty difficult.
It is all about surviving five nights at Freddys.