About Terraria for iPad
Terraria is a game of action and adventure developed by studio Re-logic. It was first made for Microsoft Windows operating systems and released on the 16th of May 2011, selling over 50,000 copies on the first day of its release. It went on to sell over 200,000 copies in its first week making it and sold over two million copies in less than two years, reinforcing the love gamers have for the Terraria. No wonder it took little time for the game to be released for mobile phone owners, officially released to users of iOS devices on August 29, 2013. It was released on iOS tablet and phone devices, after development by the Dutch studio Codeglue.
The gameplay of Terraria revolves around exploration, building, and action. It comes with a 2D tile-based style of graphics similar to the 16-bit sprites found on SNES. The classic exploration-adventure style of gameplay is one of the striking features of Terraria.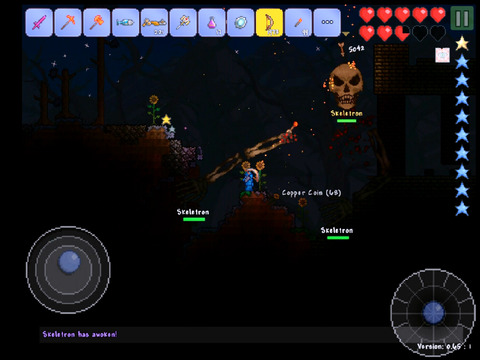 The game is available for download for iPad users on the Apple iTunes store for a token fee of jut $4.99 with a size of 59.7 MB. The game supports multiplayer with support for up to 4 players over a local Wi-fi. Players can therefore have fun with friends across any other mobile device. So you can go on adventures together or play against each other in player vs player combats.
Playing Terraria on the iPad gives virtually the same feeling and satisfaction as playing on consoles or on the PC. It is built from the scratch up for iOS.
It brings dynamism and provides limitless options to players, covering almost every aspect of any game and every game player is definitely going to love in love with the game.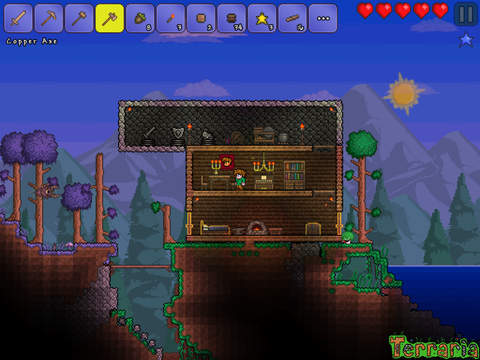 The developers of the game have provided an interface on Ipad that allows gamers enjoy seamless gaming. Exhaustive depths and options have been built into to the game for players to thinker with.
Click Here to View on iTunes Store
Terraria on iPad actually goes beyond having fun with your fingers and mind, it is bringing the critically acclaimed, best-selling indie sandbox adventure to your palms.
The game is currently optimized for users of the iPad 2 and above.
It is adventure, fun, and dynamism in your palms with the Terraria on iPad.