By Rockstar Games, Inc
Rating 9/10
The Grand Theft Auto San Andreas on iPad is an adapted chapter of the famous game franchise designed for game consoles, now available for portables. Rockstar Games developed this exclusive episode of the GTA franchise only for smartphones and tablets, with special graphics and some twists and additions in the story. You can run it on your iPad 2 or later.
Once the game is supposed to run in portable devices, it is designed on a vintage fashion. The graphics recreate the atmosphere of the franchise during the 90's despite the original San Andreas was released in 2004, so it hardly will crash your iPad. Newcomers to the franchise will meet in this episode the story of Carl Johnson, settled in the fictional city and state of Los Santos, San Andreas, respectively, which are inspired in the states of California and Nevada.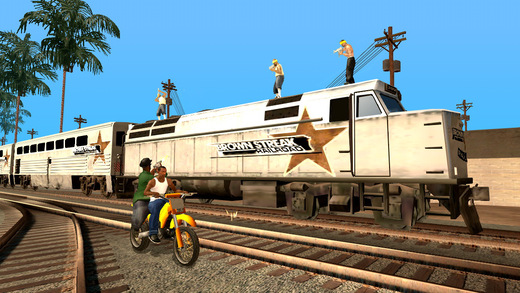 The Plot



The blend of action, thrilling races and violent confrontations of GTA is well represented in this adaptation of the Grand Theft Auto San Andreas on iPad. You will follow the journey of Carl Johnson, a former citizen from Los Santos who is back to the city after his mother is murdered. A heavy crime wave scenario has settled over Los Santos, he will be framed for murder and his only chance to make things right again will take him to a long journey across San Andreas. That's when the fun starts. Fiery races with carnage, revenge, challenging timed driving missions and some thrilling surprises.
Features
Despite the graphics development has been demure, the game is not a poor repack for different medias. Rockstar really did a lot of hard word to adapt the graphics of Grand Theft Auto San Andreas on iPad, which includes shadow and lightning enhancements for this kind of screens.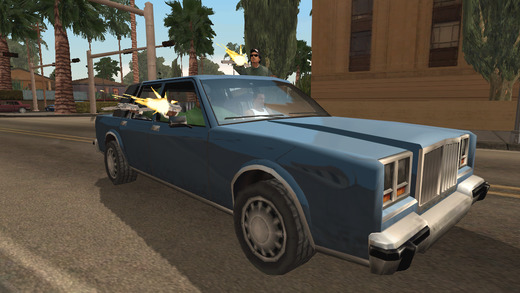 The game also has a series of special controls, like dual analog stick controls so you can control camera and movement separately.
The race controls are intuitive and only show up when you need them. Also, the are customizable so you can set which buttons and functions you need for your mission.
For last, but not least, you can also make you own radio playlist with music files on your tablet.
Grand Theft Auto San Andreas on iPad is available on the iTunes store for only 4 dollars and was already updated on October 2014 to run on iOS 8.