By Ironhide
Kingdom Rush Frontiers
It's finally here, Ironhide's Tower Defense Sequel. The release of this game has been hugely anticipated for what seems an awful long time. This is a real quality game and the developer really deserves applauding, it is well worth the wait! Kingdom Rush Frontiers for iPad.
Kingdom Rush v Kingdom Rush Frontiers
If you expect this game to be hugely different from the first then you could not be more wrong. Nearly all of the game play is as great as it was in the original game. The original four towers are still the same, you still have to build the melee, magic and artillery towers along the path where the enemy advance towards your kingdom. The menus have been changed ever so slightly but you could still be fooled in thinking the game was the same as the first.
Please do not be fooled, the first game was great but Rush Frontiers Played on iPad is even better.
Let the Arrows Fly
There are now two new tower upgrades in each category, these tower upgrades can be upgraded to a wind walkers totem or a crossbow fort. The melee can be upgraded to a Knights Templar or an assassins' guild and the magic towers to a Necromancer or Archmage. The new towers different capabilities work better or worse against, depending on the enemies. You base your whole strategy on the way you upgrade each tower.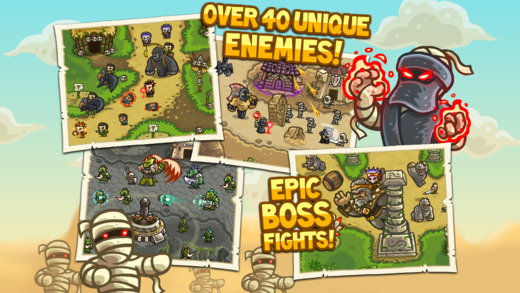 Purchasing the Heroes
The cost of purchasing the heroes Mirage the Assassin, Blackthorne, Alric and Cronan is $6.99. The cost for Ashbite the Dragon and Sha'Tra are less at $4.99.
To get the best out of out of Kingdom Rush Frontiers, means you are going to have to pay for it, for me, I paid up and I'm having the experience of playing one of, if not, the best defense games ever released.
You May Also Like – Earn to Die