By DeskConnect
iPad Automation Made Simple
Created by two ambitious teenagers, Workflow for iPad is a brilliant automation app, turning portable and mobile devices in to real power houses.

The first version was built in 48 hours by Weinstein and Kramer at a Hackathon in January. The pair of teenagers won the best iOS app award at the event sponsored by Apple.
Weinstein had previously built an app called DeskConnect which was not too dissimilar to the Handoff from Apple.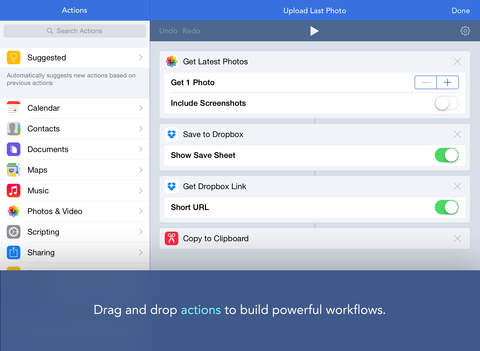 On first using Workflow, there is a lot to look at; I found the easiest way to get started was to take a look at gallery screen to see the featured Workflow.

The Make GIF Workflow is a treat to use. On using you have to take some pictures with your camera which are then joined together to form an animated GIF which is saved to the camera roll.

You are able to make your own Workflow, you just need to drag individual actions together (similar to making a macro).

There really is a lot you can do with this app, you can save a webpage as a PDF file and then save to Dropbox. You are able to preview the PDF file by adding a quick look and even put a margin around the edges of the PDF file.
Workflow used to have a Notification widget but Weinstein and Kramer were asked by Apple to remove it. This was no surprise as other apps in the App Store were made to have their widget removed.

According to the makers Workflow 1 is just the beginning, Weinstein says this automation app will get better and even more useful over time.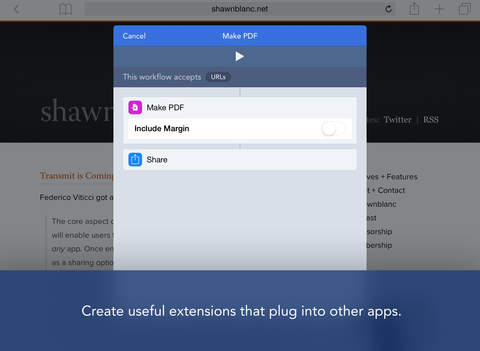 Workflow is available for download in the App Store right now, it has an introductory price of $2.99, which is sure to go up pretty soon.
I have no hesitation in recommending the Workflow App for iPad.
If you have any views, please leave your comments below.